William S. Hart Museum History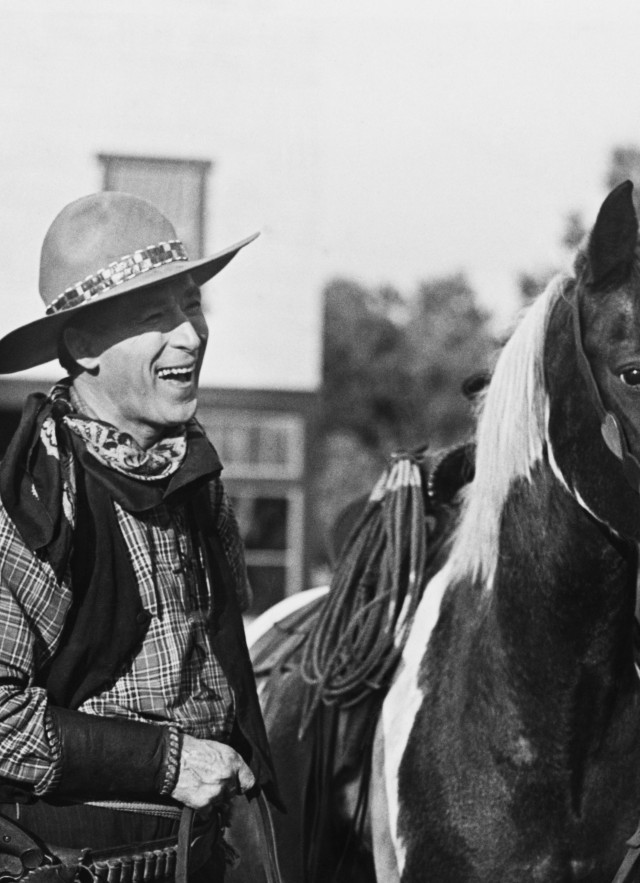 To understand the museum, it helps to understand William S. Hart. Hart started as a stage actor and starred alongside theater greats Helena Modjeska, Hortense "Madame" Rhea, Julia Arthur, and Lawrence Barrett. He transitioned to movies when he was 50 years old, and within a few short years, became one of the most popular and successful actors in the world, on par with contemporaries Charlie Chaplin, Mary Pickford, and Douglas Fairbanks.
Hart was beloved by countless fans around the globe, including U.S. President Woodrow Wilson, and when he retired, he moved into a 10,000-square-foot dream home at the top of the hill on his Horseshoe Ranch in Newhall, California.
Hart was born in 1864 in Newburgh, New York. His father, Nicholas, was a machinist who dreamed of opening a flour mill in the wilds of the Western frontier, so young Hart traveled all around the Old West—which at that time included places like Illinois, Minnesota, Wisconsin, and the Dakotas—and he thrived on the adventures of life on the frontier. Hart later recalled that he encountered and mingled with the West's most notable characters during these years, including cowboys, cattle ranchers, Civil War veterans, outlaws, gold prospectors, and saloon keepers. In addition to fishing and performing odd jobs on neighboring farms, young Hart also spent much of his time with Sioux children. From them he learned how to hunt with a bow and arrow, how to track, and how to ride horses, as well as the Sioux language and Indian sign language. These interactions would develop into a respect and admiration for both the Western frontier and Native American cultures that young Hart carried with him the rest of his life.
When Hart was a teenager, the family moved to New York City, where he started working as a hotel messenger to help support his family. As compensation for performing extra work, Hart received passes to the theater, and he decided to pursue an acting career. He made his stage debut in 1888 as Friar Laurence in Shakespeare's Romeo and Juliet. The next several years saw Hart landing lead roles in classic stage productions, including Othello, Much Ado About Nothing, The Queen of Sheba, and The Man in the Iron Mask. In 1899, Hart landed one of his most iconic stage roles: Messala in the original production of Ben-Hur.
The decision to transition to films was sudden. In 1913, Hart stopped in a nickelodeon to see a Western film while traveling with a stage production, and appalled by the way the movie portrayed the Old West, decided to make authentic Western films. After connecting with a former cast mate, Thomas Ince, who at that time operated his own movie studio in Santa Monica, Hart came west to California, and went on to star in approximately 70 feature length silent films between 1914 and 1925.
Hart's films are iconic and immediately recognizable. Known for their gritty realism, they featured dilapidated and dusty sets, sweeping landscapes, minimal action, and plain, drab, utilitarian costumes. In other words, they portray the Old West as Hart remembered from his childhood. Furthermore, Hart himself is credited for creating the role of the "good bad guy"—a character that starts out living an immoral life (outlaw, gambler, etc...) but has a heart of gold, and is eventually set on the path of good, clean, honest living by the end of the movie.
Hart's formula worked and by 1917, his films were the highest grossing in the industry, and his "Two Gun Bill" look was known around the world. Alongside Hart was the beloved pinto pony, Fritz, whom the star met on set in 1915, and who would star with the cowboy in approximately half of his movies. Fritz became the first bona fide horse movie star and his popularity with the public paved the way for later horse stars like Gene Autry's Champion and Roy Rogers' Trigger.
Hart's last film was the sweeping epic Tumbleweeds and after its release in 1925, the star retired to his Horseshoe Ranch in Newhall, California. When his 10,000-square-foot Spanish Colonial Revival style mansion was completed in 1927, Hart moved in with his youngest sister, Mary Ellen and lived the rest of his days as an active member of the Newhall community. His philanthropic efforts are remembered today: the local school district, high school, and baseball diamond all bear the actor's name, and many charitable organizations benefited from the star's generosity, including the SPCA/LA and the Boys and Girls Club.
William S. Hart passed away peacefully in 1946 at the age of 81, and in his last will and testament, he bequeathed his Newhall home to the County of Los Angeles to be converted into a park and museum for the public. As he himself said: "When I was making pictures, the people gave me their nickels, dimes, and quarters. When I am gone, I want them to have my home."