It's been a long time since Hollywood's first great cowboy star, William S. Hart, hung up his spurs. Yet this silent screen superstar from the early days of motion picture history left an extraordinary legacy: the William S. Hart Museum, a gift to the public that had made him one of the top-grossing film actors in the world from 1914 to 1925. The Hart Museum is a rarity in the museum world: a historic house museum with most of the original contents intact. Not just the furnishings, but the books, artwork, clothing, and memorabilia.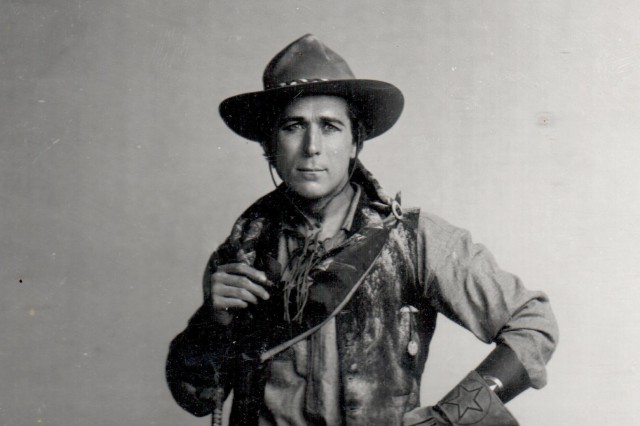 When I was making pictures, the people gave me their nickels, dimes, and quarters. When I am gone, I want them to have my home.
William S. Hart portrayed his vision of the West on screen as well as in his home, filling it with Western art, Native American beadwork and textiles as well as theatrical and film memorabilia. Will Rogers, Charlie Russell, Wyatt Earp, and Amelia Earhart are a few of Hart's friends whose gifts are on display throughout the house.  
Hart bequeathed the house and its contents at the time of his death in 1946, and it contains a wide variety of objects, including stage and film costume artwork by Remington and Russell; furniture and furnishings; and clothing and other personal belongings.  Archives and historical documents in the Hart Museum collection are housed in the Seaver Center for Western History at the Natural History Museum of Los Angeles County's main campus in Exposition Park. 
The collection on site at the Hart Museum in Newhall is available for study by film historians, art historians, or others with a research interest in Hart and his life, and items may be available for loan to other institutions.  It is managed by the NHMLAC History Department, and inquiries about loans or research access should be directed to the Collections Manager for Material Culture.
Collection Highlights
William S. Hart Jr.'s Swimsuit
William S. Hart was one of the few individuals wealthy enough to have his own swimming pool in the 1920s.  As a divorced father, Hart had limited time with his only child, William S. Hart, Jr.  His son must have enjoyed the luxury of a private swimming pool as witnessed by the number of his swimsuits left at the house.  These would have been both itchy and heavy when wet.  More than just style, the belt may have helped prevent the soggy suit from sagging.
Quill Work Vest
William S. Hart from childhood onward was proud of his friendships with Native Americans, although like most filmmakers of his era, he did not portray them kindly on screen.  Nonetheless, Hart filled his home with Native American rugs, beadwork, and baskets.  Among the numerous Native American garments in his collection is this hide vest decorated with porcupine quills which have been dyed red.  The vest dates from around the 1880s and was most likely made by a member of the Sioux.
Will Rogers on Soapsuds sculpture by C.M. Russell
Artist Charlie Russell sculpted this small bronze statue of humorist Will Rogers astride his favorite horse, Soapsuds.  Rogers was a good friend of both Russell and William S. Hart, so it's not surprising Hart owned a copy of this sculpture.  Rogers also had a copy of the sculpture on display at his ranch house in Pacific Palisades.  Like his good friend William S. Hart, Rogers' home is also now a park open to the public.
Mary Ellen Hart With Westport Pouffins portrait by James Montgomery Flagg
A prolific illustrator, James Montgomery Flagg spent time painting Hollywood celebrities, including William S. Hart. The two became friends, and remained close to the end of Hart's life. This oil painting by James Montgomery Flagg was completed in 1945, two years after the death of Hart's sister, Mary Ellen. Flagg used a snapshot taken of Mary Ellen with her cat, Westport Pouffins, to complete the portrait.
Cigarette For Supper painting by Joe De Yong
As he was starting to pursue art as a career, Joe De Yong befriended noted artist Charles M. Russell, and the two formed a relationship that lasted until the end of Russell's life. On a trip to California with the Russells in 1924, De Yong met William S. Hart among other celebrities. His drawings and watercolor paintings, several featuring Native American regalia, caught the attention of Hollywood, and in 1936, he was hired by Cecile B. DeMille to serve as historical adviser and costume artist. Over the next several years, De Yong would work in this capacity on at least 21 major films, influencing the visual history of the Western.  Russell inspired De Yong to paint the authentic West, something that both knew was quickly vanishing. De Yong's work carries hints of Russell's use of color, as seen in this painting.
Quirt given to Hart by Western lawman Wyatt Earp 
In addition to being a good word for all Scrabble players, a quirt is a crop which usually has two flaps on the end that slap together to make a snapping sound. They are often used as a tap to cue the horse to change direction or speed. This quirt was a gift to William S. Hart from his good friend, American lawman Wyatt Earp.