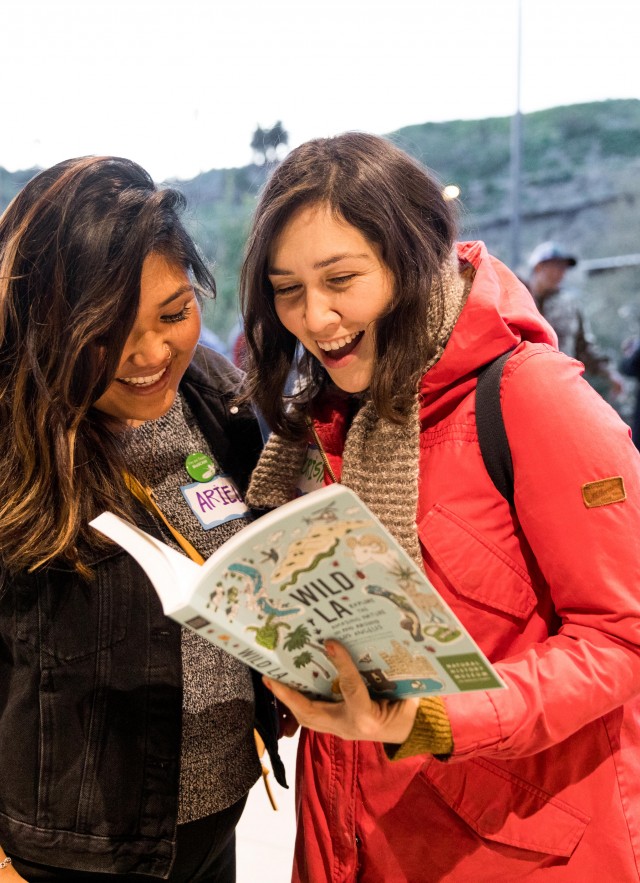 Wild L.A.: Explore the Amazing Nature In and Around Los Angeles
We've created a new kind of nature guide, and it's time share it with you! Co-written by our very own Lila Higgins and Greg Pauly, it tells the stories of Los Angeles' surprising nature, its plants and animals, and how we humans interact with all of them.
L.A. may have a reputation as a concrete jungle, but it's actually incredibly biodiverse, full of an amazing array of wildlife. You just need to know where to find it, how to look for it, and the stories behind it! Wild L.A. is part natural history, field guide, and trip planner. You'll learn about the factors shaping local nature—including floods, fire, and climate—and see what we think is amazing about over one hundred easy-to-spot species, from sea turtles to rare plants to Hollywood's famous mountain lion, P-22. We also have created hikes you can take, which uncover natural wonders you can experience on hiking trails, but also in public parks and outside spots in your neighborhood.
Authors: Lila Higgins, Gregory B. Pauly, Jason G. Goldman, and Charles Hood
Publisher, publication date, price: Timber Press; March 19, 2019; $24.95
ISBN 10, ISBN 13, epub info: 1604697105; 978-1604697100
Purchase your copy of Wild L.A. online.
Reviews So Far!
"You would be hard-pressed to find a group of people whose enthusiasm for nature is as infectious as the four authors of 'Wild L.A.'"
—Los Angeles Times
"No matter how much one thinks one knows about L.A., this travel companion will shed new light on all that flourishes and flowers, or creeps and crawls in the vast urban-yet-still-wild sprawl of the city and surrounding area."
—Publisher's Weekly
"Whether you're new to nature or an experienced hiker, just visiting or a lifelong Angeleno, I can almost guarantee you'll learn something new and fascinating about the world around you after thumbing through Wild L.A. – and you'll never look at the city the same way again."
—Casey Schreiner, Modern Hiker
Inside Wild L.A.
10 background chapters that explain L.A. nature—in fun ways!
Over 100 profiles of L.A. plants and animals. We show you how to find them, and a few of their coolest stories.
25 field trip guides for Southern California, with tips, what to look for, pictures, and illustrations. (Above is a map of just one, Earvin "Magic" Johnson Park.)
Writer Bios
Lila Higgins grew up on a farm in the United Kingdom, where she had lots of time for unstructured play in the wild. Her love for nature, especially insects, grew out of this time and led her to study entomology and environmental education. Her work at Mass Audubon Society's Drumlin Farms Sanctuary and at the Mary Vagle Nature Center focused on connecting people to nature, particularly in urban settings. Currently she oversees NHM's community science program and loves getting people involved in studying the plants, animals, and fungi that live in Los Angeles.
Dr. Gregory B. Pauly is curator of herpetology and co-director of the Urban Nature Research Center at NHM. His research since joining the museum in 2012 has focused on the impacts ofurbanization on wildlife. He is an advocate for community science and believes partnerships between professional scientists and community members can revolutionize scientific research. His fieldwork has involved studying frogs in tropical rainforests, lizards in the Mojave Desert, and introduced geckos across Southern California neighborhoods. He has authored or coauthored numerous scientific publications, including several with community scientist coauthors.
Dr. Jason G. Goldman is an award-winning science journalist, expedition leader, and public speaker. His writing has appeared in Scientific American, National Geographic, Los Angeles magazine, the Washington Post, BBC Earth, Audubon and elsewhere. He's the director and co-founder of SciCommCamp, a camp-style retreat that brings scientists and science communicators together to inspire fresh, exciting ways to tell compelling science stories. As a founding member of the Nerd Brigade, he works to democratize access to and promote literacy in science, technology, engineering, and mathematics.
Charles Hood grew up in Atwater beside the Los Angeles River. He has been a bird guide in Africa, a translator in New Guinea, and a National Science Foundation Artist-in-Residence in Antarctica. He is the author of many books and essays including A Californian's Guide to the Birds among Us. Three of his books have won national poetry awards; he also curates art exhibitions and is a Research Fellow with the Center for Art + Environment at the Nevada Museum of Art. A reformed birder, he stopped counting at 5,000 species, but he admits he's recently started a world mammal list.