The Ofrenda Community Project, Samantha's Reflection
The Magnitude of the Group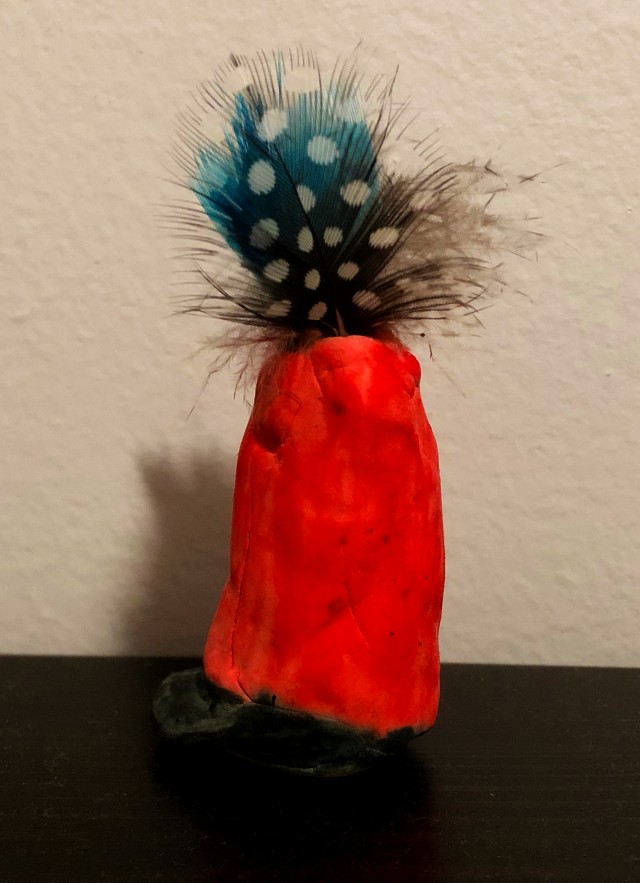 A collaboration between the Museum & WriteGirl
Community voices within Museum exhibits bring added value, perspectives, and spirit.  In partnership with WriteGirl, a creative writing and mentoring organization that promotes creativity and critical thinking, the Community Engagement team at the Museum created The Ofrenda Community Project.  Participants received at-home storytelling kits anchored in the ofrenda or altar located in the Becoming Los Angeles exhibition.  WriteGirl youth selected an inspiration object in the ofrenda that they felt drawn to and created a memory map based on that object to explore connections and meaning in their personal experiences.  They then crafted their own object to add to the ofrenda and developed a creative writing piece derived from the memory map activity.
Samantha's inspiration piece was the collection of Central Avenue jazz musician figurines, pictured below.  During the 1920s to 1950s, Central Avenue in South Los Angeles was the hub of the West Coast jazz scene. The origin of jazz in Los Angeles has been attributed to a number of musicians who moved here from New Orleans and formed social dance bands. 
MEET SAM, 17 YEARS OLD FROM REDONDO BEACH, CALIFORNIA
Samantha is a high school junior living in Southern California. Sam has been a member of the WriteGirl organization for the past five years, and her poem "Makeup" was published in the 2019 WriteGirl anthology This Moment. She is a musician, author, social justice advocate, actor, and avid language learner. She has been playing trumpet for the past six years, mellophone and French horn for the past year; started playing ukulele in March during the first COVID-19 lockdown; and six months ago, decided to learn piano as well. She recently got cast in her virtual high school production of The Addams Family as an ancestor and is currently writing a historical fiction book about a teenage girl who struggles with her identity in the late 17th century during the Golden Age of Piracy, which she eventually hopes to publish.
The Magnitude of the Group
I've always been a performer, even if I didn't know it as a kid. I have old footage on my computer of my five-year-old self belting an Elmo parody of the song "Drive My Car" by the Beatles in my pink Hello Kitty pajamas with a smile on my face as I jumped around my mom's office. I always listened eagerly to my mother's CDs with Queen, Van Halen and Blondie on them and grew excited when my mom began periodically purchasing the Glee soundtracks as they came out.
My parents weren't the only ones who influenced my love for music. Bhamini, a family friend who was also my babysitter for a good portion of my life, would make roti in the middle of the day at her house because she was a caterer. As she finished, rinsing the flour off of her fingers, she would play Bollywood music on her computer upstairs. It wasn't something I was ever familiar with, but I remember really enjoying the rhythm of the percussion and the high pitched of a singer whose language I didn't understand, but whose voice I loved. My grandfather played piano and organ, and when we would go visit my Nonna and her family, they would ask him to play piano for them since there was one at my Uncle Gabe's house at the time. And my Nonna's twin sister, my Aunt Sonia, wasn't without her music either: she would sing the Italian children's song "Batti Batti le Manine" ("Clap, Clap Your Hands") whenever children were around, and while she clapped her hands, her face would break out into a wide smile in an attempt to make my cousin smile, too.
One of the ways I ventured into music was through doing theater: my mom saw that I liked to perform for her and my dad in our living room, so she signed me up for my first musical in 2009: Annie. I loved the high of getting onstage and seeing the faceless crowds of people while the bright stage lights warmed my face until it grew pink as I danced and screamed until my lungs hurt just so I could hear myself among the other six-, seven- and eight-year-olds.
I didn't officially become interested in singing until the fourth grade when I first listened to Sierra Boggess perform in the 25th anniversary edition of Phantom of the Opera at Royal Albert Hall. I was entranced. There was something about her voice: maybe it was something about the way the words sprung from her throat or the power she wielded when she sang, but nevertheless I knew I wanted to sing just like her. So I listened to the soundtrack over and over again, sometimes in the middle of my light blue bedroom, or even on roadtrips, where her operatic voice would ring in my ears as I passed sandy landscapes, until I could reach the B flat at the end of "Think of Me" and could barely squawk out the high E at the end of "Phantom of the Opera."
However, I listened to that music and learned it by ear. I didn't have any frame of reference as to how to read notes on a page or learn how to count measures and rests. The year after I first discovered Phantom of the Opera, my mom pushed me to try band. In the beginning, I had no interest in being in the elementary school band at all. There was something drastically unappealing about playing an instrument in the small, elementary school cafeteria with its gray walls, rows of little blue pullout benches, and the constant squeaks of clarinets and saxophones bouncing off the walls while the trumpets blasted grossly out of tune. But my mom told me that if I didn't want to continue band the next year, I wouldn't have to. It was the perfect escape clause: do band for at least one year so I can say I tried it, and then leave as quickly as possible.
What my fifth grade self didn't anticipate was the possibility that band would go from being a chore to appease her mom to one of the biggest extracurriculars she would have. Trumpet was an excellent choice, because although I remained one of two female trumpets in the section for most of my career, it was one of the ideal instruments to play if I wanted to get into the middle school jazz band. As soon as I heard the jazz band play, I knew that I wanted to be in that band, not just because it was a crowd favorite, but because it reminded me of all of my favorite 20th century jazz artists: Ella Fitzgerald, Louis Armstrong, Glenn Miller, Frank Sinatra, Nat King Cole, and Miles Davis. All of the musicians I had admired and looked up to for their long, connected phrases or talented brass-playing abilities could be me one day, and it could start right at my middle school. After two years of being in concert bands, I finally got into jazz band in eighth grade and it was much harder than I expected, but just as much fun as my sixth and seventh grade selves imagined it would be.
I loved band so much that I couldn't imagine giving it up, so I decided to join marching band freshman year as a trumpet player. I knew that it would take a lot of time out of my schedule and that it would be physically demanding, but I didn't realize how much until band camp rolled around that summer. Not only would I have to memorize music for the marching show, but I would have to learn how to march 8-to-5 steps on the field while holding my instrument, panting through the mouthpiece as I hit all of my dots, only moving when it was appropriate and precisely in time. 
As much as I loved trumpet, two songs inspired me to want to try French horn and mellophone, the marching equivalent of French horn. During concert season, the French horns had the beautiful, connected melody in Frank Ticheli's "Rest," and during marching season my freshman year, we would open our show with an arrangement of Radiohead's "Creep" in which the mellophones had the melody. As a sophomore, I made the official switch to mellophone and I felt happier than I ever had in band. Coupled with the enthusiasm my bandmates and I shared for our show that year, "Savage" (which was inspired by King Kong), I finally felt free. Although the mellophone section struggled during that season, we all became closer than we ever were before.
For much of my life, I've felt as if I've been "on the outside always looking in," so to speak, and this feeling always lingered in the back of my mind when I was in the trumpet section. Although I knew all five of the freshmen, as we had been in middle school band together, I didn't really share many of their interests or sense of humor. And as one of two female trumpets in our section, I also felt the divide between me and the older boys in my section who I always felt kind of awkward talking to. I finally felt free when we went to our first band competition and we opened with "Creep" on the field. Standing in our black and red uniforms in a circle, playing our instruments as one unit instead of in our separate band sections, I finally felt the magnitude of the group I was in. I was a tiny speck in a small part of the band, sure, but I finally felt connected to people. And when one of the mellophones played the solo at the end, I had two realizations: One, I really wanted to play mellophone, and two, I was so happy that even despite the sweat, blood and tears that I went through trying desperately to make band work, I knew that I was home.
Samantha's arrangement of "Creep" 
Samantha documents the making of her ofrenda object and song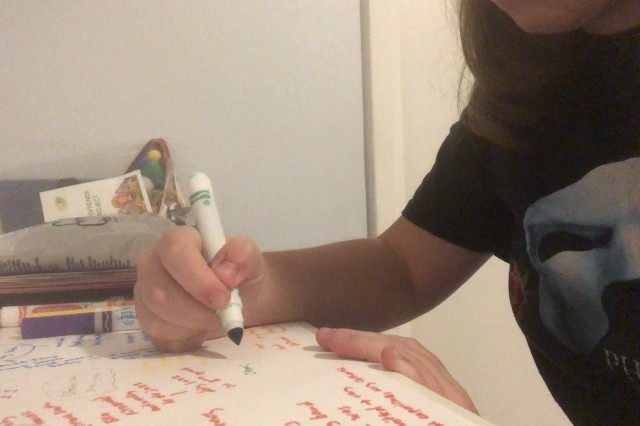 Making my mind map--so many ideas to choose from!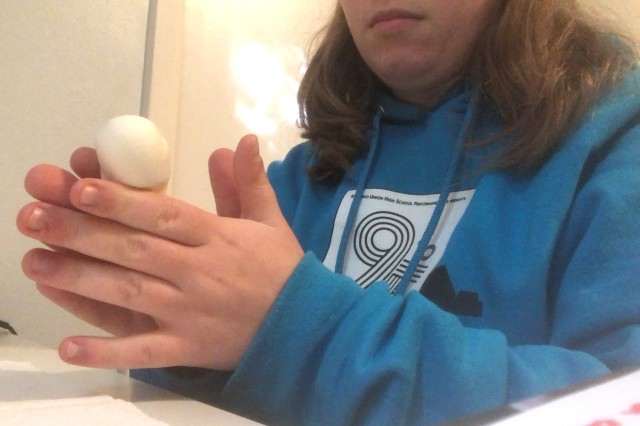 My first attempt at using model magic.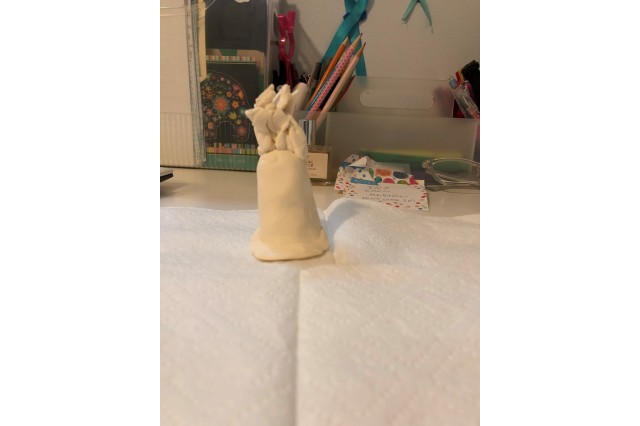 The shako (hat used in marching band) with faux textured feathers to represent the plume.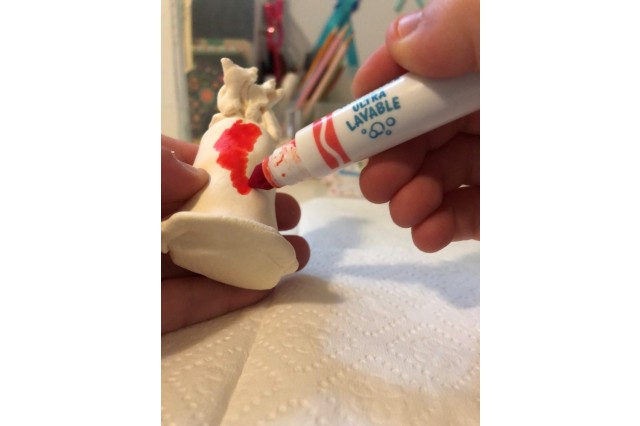 Decided to color the shako red to represent my main school color.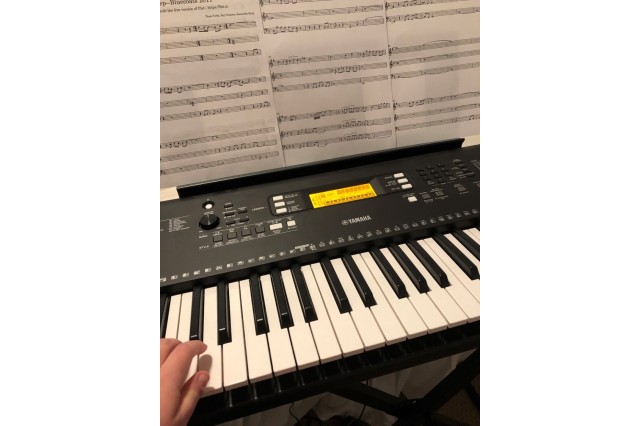 The first playing of the piece.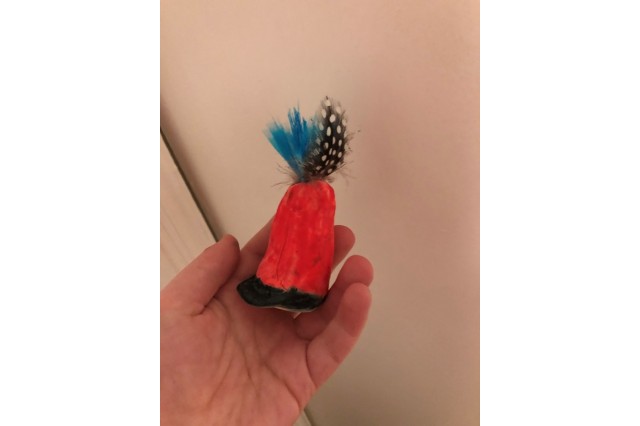 The final product! I found some feathers in my closet to make the plume look more realistic.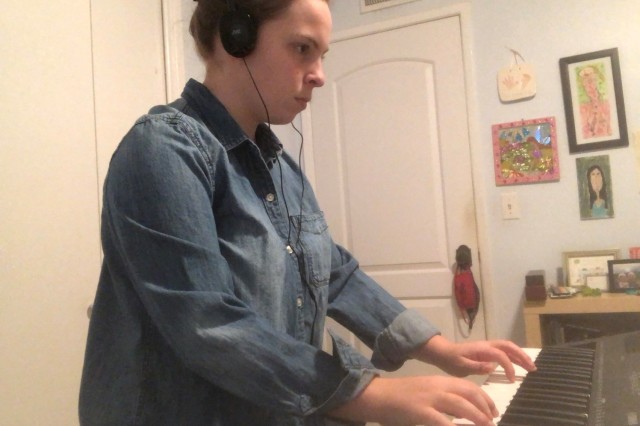 Making sure that both the bass and treble clef parts make sense.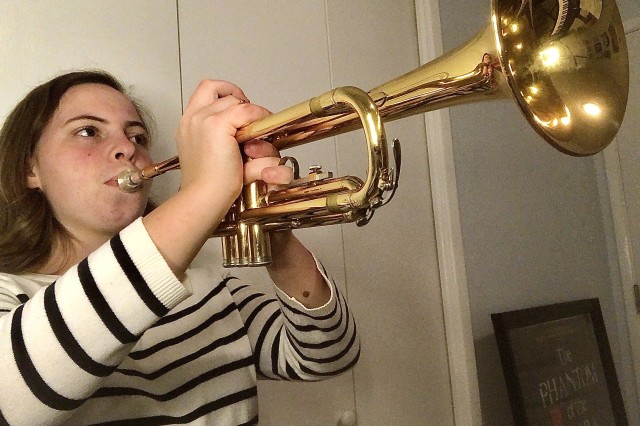 Adding the trumpet!